MADRID FUSIÓN 2023: SABORES KM 0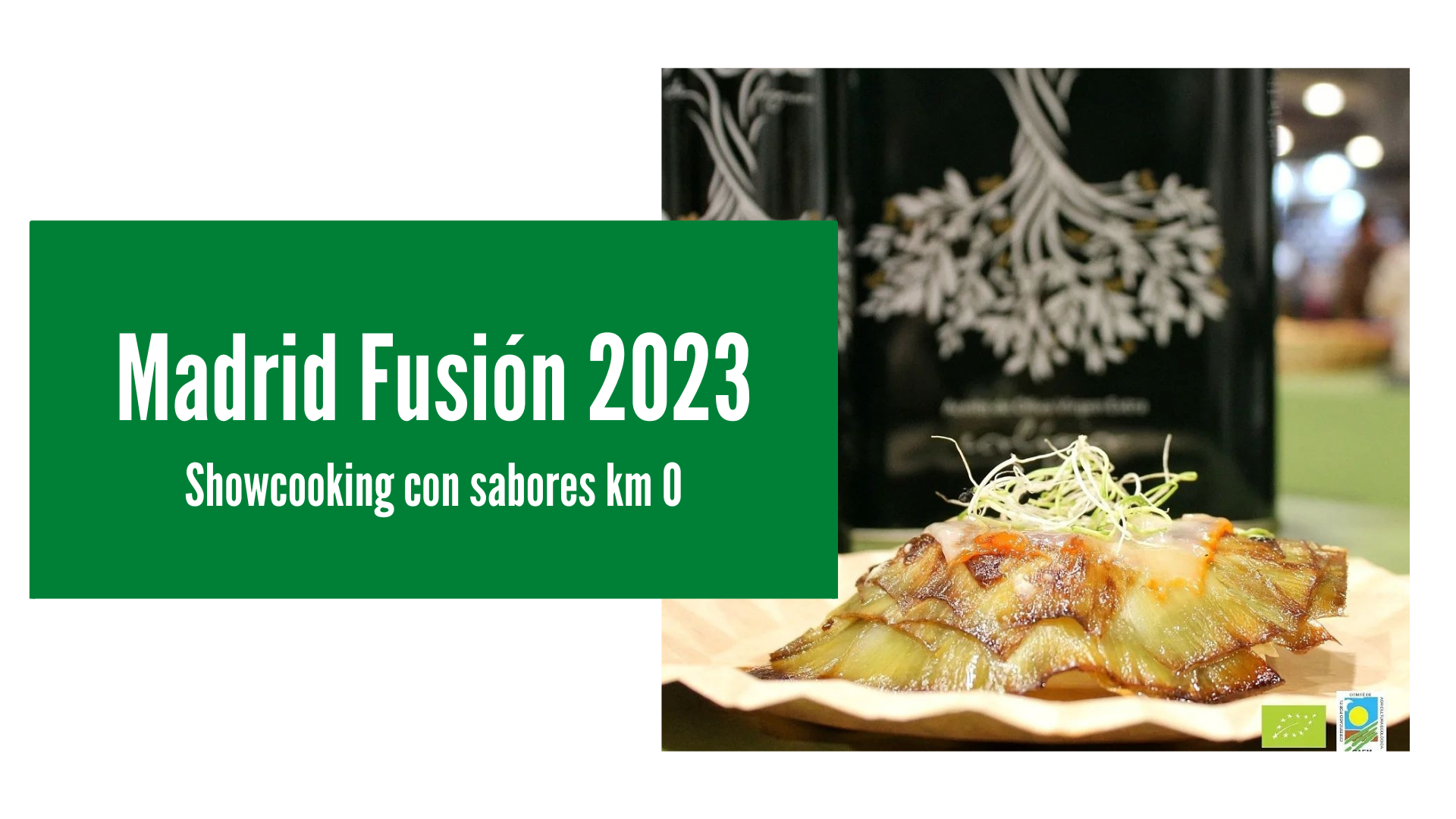 Un año más hemos tenido la suerte de poder participar en el congreso de gastronomía más influyente, Madrid Fusión. Este año hemos encontrado una cita repleta de ponencias, actividades y degustaciones a las que nos hemos podido sumar en el Stand de "M producto certificado", la marca de garantía que certifica la calidad de los productos agroalimentarios de la región.
Entre los días 23, 24 y 25 de enero este stand estuvo repleto de presentaciones, Showcooking y catas de los mejores productos, disponibles para todos los visitantes del evento.
Nuestra participación el pasado martes 24 fue de la mano de Carlos Pérez de Latxasca Etxea. Elaboró un plato lleno de productos de la huerta de la Vega de Perales de Tajuña. Una elaboración con multitud de matices donde la protagonista era la alcachofa confitada en aceite de oliva virgen extra ecológico Alma de Laguna. Para añadir más productos de proximidad, maridamos el plato con el Alma de Valdeguerra Rosado Semidulce, un vino fresco que combinaba a la perfección con los sabores del plato.
La degustación tuvo una gran acogida entre los visitantes. Se destacó la importancia del consumo de alimentos de proximidad y lo afortunados que somos de encontrarnos en región tan comprometida con la calidad de sus productos.
Tras el evento, estuvimos con un stand informativo recibiendo a los visitantes que se acercaban a probar el aceite ecológico de la nueva campaña 2022/2023 y las últimas elaboraciones de la bodega. Incluso pudimos reunirnos con buenos amigos de la familia.
Nos despedimos ya de esta experiencia y esperamos vernos en la próxima. Gracias a todos los que habéis venido y habéis contribuido a ella.
Dejamos algunas fotos del día y nos despedimos. ¡Hasta la próxima!
---
Once again we have been lucky enough to participate in the most influential gastronomy congress, Madrid Fusion. This year we have found an appointment full of presentations, activities and tastings. We have been able to join in the stand of "M certified product", the guarantee mark that certifies the quality of the food products of the region.
On January 23, 24 and 25 this stand was full of presentations, showcooking and tastings of the best products, available to all visitors of the event.
Our participation last Tuesday 24th was with Carlos Pérez from Latxasca Etxea. He prepared a dish full of products from the vegetable garden of the Vega de Perales de Tajuña. An elaboration with a multitude of nuances where the protagonist was the artichoke confit in organic extra virgin olive oil Alma de Laguna. To add more local products, we paired the dish with Alma de Valdeguerra Rosado Semidulce, a fresh wine that combined perfectly with the flavors of the dish.
The tasting was very well received by the visitors. The importance of the consumption of local food and how fortunate we are to be in a region so committed to the quality of its products was highlighted.
After the event, we had an information stand welcoming visitors who came to taste the organic oil of the new 2022/2023 campaign and the latest elaborations of the winery. We were even able to meet with good friends of the family.
We say goodbye to this experience and hope to see you in the next one. Thanks to all of you who came and contributed to it.
We leave some pictures of the day. See you next time!